Spring Break Must Haves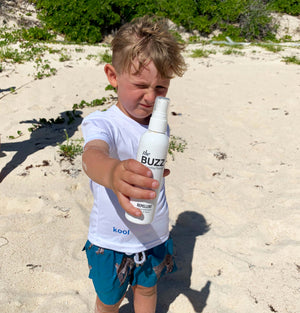 Ok, so this wasn't the same old spring break story this year with COVID, however it felt amazing to go somewhere and discover and finally feel free again. 
Our family too to the Bahamas and it was a thrill. All parents know that there are necessary items to pack with young kids: toys, Ipad, ….. NOPE  these the top 3 must-have items SAVED US! keeping it simple when you are outdoors. 
1.) SPF and SPF gear / Long sleeve and short sleeve rash guards, sun hat, layers that can get wet  
2.) Insect repellent / ORGANIC, reef safe and SKIN safe bug spray that can layer up over the SPF  
3.) Refillable Water Bottles / Thermos / keeping the kids hydrated made our days more manageable  
We would kick off the day lathering up our kids with non-toxic and all natural  RAW ELEMENTS because it stays on, and the kids don't cry if it gets in their eyes. We love our oceans and Reef safe is important to us! Then I sprayed their bodies with the BUZZ head to toe to repel all the no-see-ums that would tried to invade our trip. 
💦💧Last but not least, HYDRATE. Long days in the sun you need to double on the H20. 
Happy travels. 
Leave a comment